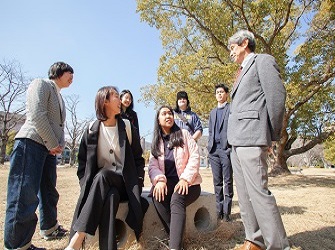 Thank you for visiting the Discovery Program for Global Learners website. Launched in October 2017, our program is still new. But we have successfully created a close-knit community, with vibrant students from 20 different countries.
Each year, we receive roughly 30 international students and 30 domestic students. They pursue an individualized curriculum in an interdisciplinary and bilingual environment. Students can complete their study in the English-based Discovery Track, mainly offered by Discovery's own faculty or in the Japanese-based Open Track, in which students can take courses offered in other faculties on campus. After four-years of undergraduate study, students earn a Bachelor of Arts and Sciences (B.A.Sc.).
We cherish diversity. Our faculty members also come from diverse backgrounds and have had rich experiences in different parts of the worlds. All of our faculty are passionate educators. We provide an outstanding learning experience, including internships, fieldwork, study abroad, and lab work, in addition to intensive small discussion-based classes in this program.
We hope to see you on campus in the near future. If you have any questions, please let us know.
Dr. Hitoshi Ueda
Director, Discovery Program for Global Learners (April 1, 2021 ~)
Vice Director, Discovery Program for Global Learners (October 1, 2017 ~ March 31, 2021)
Director of Academic Affairs, Matching Program (April 1, 2010 ~ March 31, 2015)
Professor, Department of Biology, Faculty of Science (May 1, 2004~)