Service-Learning in Aba Village, Tsuyama City
2019年11月5日
On the 19th and 20th of October 2019, 22 Japanese and international students from the Discovery Program took part in a Service-Learning Project at Aba, a former village now part of Tsuyama City, located in the north of Okayama Prefecture. Students participated in the project as part of a "Japanese Economy" class taught by Professor Aoo.
On the first day of the project, students listened to presentations by local residents. Shigenobu Ogura, a former Vice-village head and writer of a history book of Aba, informed students about the history and culture of the village, while Hiroshi Tanaka, the director of an NPO called Eco Village Aba and owner of Anami Restaurant, spoke about transportation and business activities in the village.
The next day, on the 20th of October, students broke into 5 groups and helped local residents prepare for the annual Flower Festival, which is held at Aba Hachiman Shrine. The festival is designated as an important intangible folk cultural property of Okayama Prefecture. Under the guidance of local residents, students worked hard to make paper flowers and shave bamboo that would later be used as festival decorations.
Students were delighted by the chance to visit a Japanese village and interact with the locals, and some enthused that it exceeded their expectations. Similarly, locals were grateful for the students' interest in the village, as well as for their help. Some noted that they were able to finish preparations for the festival quicker than usual and hoped that the students would be able to come again the following year. On the 3rd of November, a few of university staff and students were able to participate in the festival and once again enjoy a memorable time with the locals.
One of the goals of the project was to supplement the theoretical coursework and help students deepen their understanding by applying their experience at Aba Village to what they have learnt in class. Afterwards, students of "Japanese Economy" are expected to come up with a potential business plan or tourism program that could be used in Aba Village to boost the local economy.
This Service-Learning Project was carried out as part of Okayama Prefecture's「地域に飛び出せ大学生!おかやま元気!集落研究・交流事業」(Village-Student Research and Exchange) initiative. We would like to thank everyone involved in the project, especially the Prefecture and Tsuyama city governments, local residents, and the Aba Community Development Council.
The Global Discovery Program was founded in 2017. It is an international program where international and domestic undergraduate students, including returnees, can learn together. Regardless of department or field of study, students are encouraged to create a study program uniquely suited to their interests and future goals. With an emphasis on practical learning opportunities, including internships and fieldwork, our goal is to nurture global citizens who play an active role in society.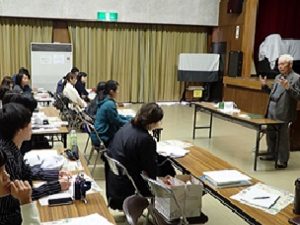 Aba Village History and Culture Presentation by Mr. Ogura.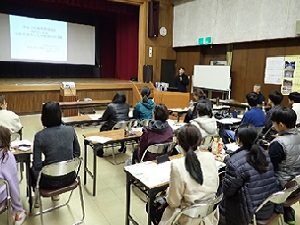 Transportation support project Presentation by Mr Tanaka.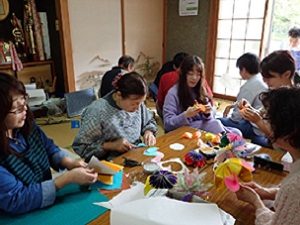 Students working together with local residents.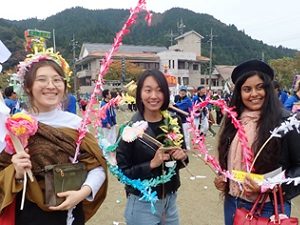 Flower Festival at Hachiman Shrine