Situated south of the Chugoku mountain range and facing the Seto Inland Sea, Okayama is a major stop on the high-speed Bullet train (Shinkansen) line. From ancient times, Okayama has been a central point of departure and arrival, and Okayama industry and culture have both thrived because of this location. With Hiroshima just to the west, and the busy port cities of Osaka and Kobe to the east, Okayama is also the gateway to the Shikoku region and the islands of the Inland Sea.
Okayama, the Central Hub of Western Japan
Okayama airport has arrivals from Tokyo, Sapporo, and Okinawa as well as direct international flights from Guam, Seoul and Shanghai, convenient transit points for flights to and from Europe and the Americas. Frequent buses run from the airport to Okayama's main train station and the nearby stop for Okayama University. All high-speed bullet trains stop at Okayama station, the main transportation route between Kyushu in the west and all points east. Highway busses offer economical access to many major cities.
Okayama is Accessible from Everywhere
Of all the large universities in Japan, Okayama University's campus is one of the closest to a major transportation terminal, and Okayama is also much closer to Japan's major cities than one might imagine. Hiroshima, Kobe, Osaka and Kyoto are all within an hour's ride by Shinkansen from Okayama station. Day trips are possible for historical tours, shopping, concerts or theme parks like Universal Studios Japan. Tokyo can be reached in three and a half hours by train, or 55 minutes by air. Flights to international hub airports Seoul and Shanghai are less than two hours.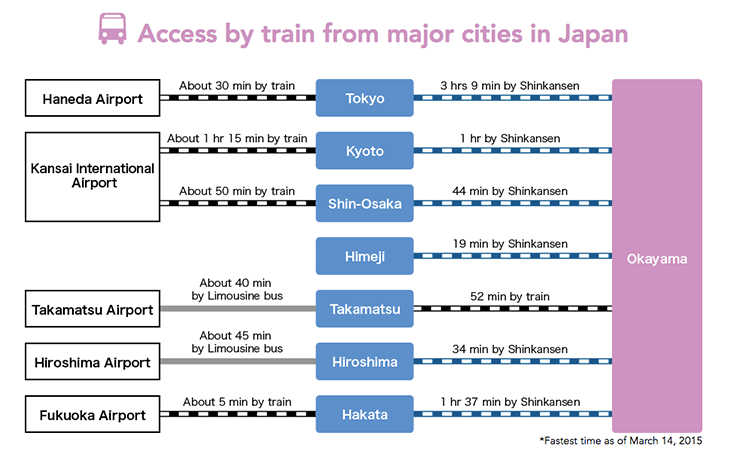 Comfortable Living
Okayama has earned many nicknames, from "the Land of Sunshine" to "the Fruit Kingdom." Three great rivers that flow through the prefecture are supplied with an abundance of high quality fresh water from the snowy Chugoku mountains. With long sunlight hours and few days of rainfall, Okayama deserves the praise.