Japan is a country of festivals, and Okayama doesn't disappoint. Making the most of the four seasons, nature is always the backdrop for a full-calendar year of life-changing, memorable events. Bring your friends!
What could be more Japanese than hanami or cherry blossom-viewing? In the first month of the school year, students are rewarded with a bright pink wonderland. While there are plenty of cherry trees in and around campus, there are hanami locations all over Okayama. Because Okayama has a varied climate, from the mountains to the sea, students can enjoy many weeks of hanami. Korakuen and the Asahi River surrounding Okayama Castle are popular locations for barbecue parties. Tsuyama Castle, boasting more than 5,000 cherry trees, is known nationwide as a famous hanami location. Daigozakura, a tree in Maniwa city, is thought to be more than 1,000 years old, and attracts a sea of visitors every year.
| | |
| --- | --- |
| | |
Summer in Okayama is full of events and is an exciting time to be here. The Momotaro festival in August is Okayama City's biggest event. During the day, there is a parade of dancing called Uraja that explodes with color, music and colorful costumes. Many Okayama University students and staff participate in Uraja dancing through a club or individually. At night, the fireworks along the Asahi River have a nostalgic, romantic feeling, and students can wear yukata (the lighter, summer kimono) and stroll among the crowds and food vendors. The fireworks can be seen from inside Korakuen Garden. During the whole month of August, Korakuen is lit up at night. There is a calm, other-worldly atmosphere which is especially nice during the harvest moon.
From summer into autumn, there are a number of music festivals on and around the islands of the Seto Island Sea. Shodoshima's Shima Festival Setouchi is a music festival and food market that has been going on for a hundred years. Ushimado Natural Camp is a boutique music festival with bands from all over Japan, organic food stalls and workshops of all kinds, from yoga to standup paddle to pinhole camera. You can camp out under the stars, or head back to campus after a long day of fun in the gorgeous Seto Inland Sea weather.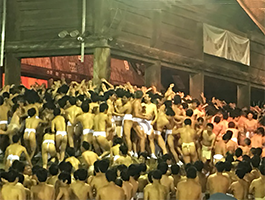 One of Japan's rarest festivals takes place in Okayama in February each year at Saidaiji Temple. The Hadaka Matsuri, known as the Naked Festival, has gone on for five hundred years and starts with the preparation of sacred wooden sticks known as "shingi." On the night of the festival, thousands of men, wearing only loincloths, are doused with water in the freezing cold to purify them. Then the shingi is dropped among them. The one who can grab a shingi and stuff it into a wooden box will be called the "Lucky Man." Only men can participate, but everyone is invited to watch this incredible, unforgettable event.