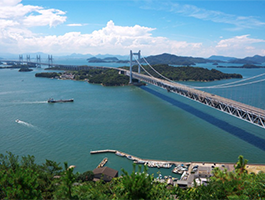 Okayama is a paradise for lovers of the outdoors. Students don't need to spend money to take advantage of the wonders of nature here. A rich diversity of beautiful landscapes covers the area, from the thousands of islands in the serene Seto Inland Sea, to the famous bicycle-friendly plains leading to the majestic Hiruzen plateau, rising upwards into the Chugoku mountain range. Whether you love swimming, hiking, biking, or climbing in perfect weather, there's no better place to be during your student years.
South of Okayama City is the coastline of the Seto Inland Sea. This turquoise jewel has been one of Japan's most important areas of civilization, and is now protected as a national park. Far from the hustle and bustle of the cities, you can ferry to the islands and explore them by bicycle or on foot. Find a surprising variety of experiences from small traditional fishing villages to sandy beaches. New outdoor art installations and museums have recently made the area a world-famous art destination. Each island has its unique treasure: the olive groves and soy sauce breweries at Shodoshima and sea kayaking at Shiraishi Island.
Back on the main island, Okayama City is surrounded by plains, dotted with hills and famous cycling routes. Between Okayama City and Soja City, just to the west, you can follow the trail of Okayama's most legendary figures on the Kibi Plain Bicycle Route. Rent a bicycle for the day and cycle along rice fields to find temples, shrines and ancient tombs of great cultural and historical importance. The terrain is mostly flat, and routes can be as easy or as challenging as you choose. Every season brings a different pleasure: cherry blossoms in spring, the blooming cosmos of late summer, colored leaves in autumn and softly falling snow flurries in winter.
Following the Asahi River up from the sea, through the Okayama plain to its source, you'll find the Hiruzen Plateau, a summer resort famous for its idyllic views of the mountains and its rolling green pasturelands with roaming Jersey cattle. Here you can enjoy all kinds of outdoor activities, from camping and horseback riding in the summer to skiing in winter. Mountain hiking is popular with  beginners as well as those who are more experienced. Fresh air and local delicacies await you at local farms and wineries.
Although Okayama is not a particularly active volcanic region, it is blessed with a rich bounty of hot springs. Relaxing in an onsen (hot spring) after your hard studying will restore your health and spirit. Not far north of Okayama City, in the Mimasaka region, there is Yunogo Onsen, the yokozuna (grand champion) of western Japanese onsen. This open-air hot spring is surrounded by lush green nature and can be enjoyed in every season, although autumn is a favorite because of the mountainside of colored leaves.