GDP Student Life
GDP Student Association (GDPSA)
The Global Discovery Program Student Association (GDPSA) is a student-run organization composed of reliable, proactive, and goal-driven GDP student leaders.
We exhibit our three core values – collaboration, growth, and trustworthiness – through carrying out our mission, which is to support the student community of GDP.
We aim to create fun spaces that foster a strong sense of community among students while also assisting and guiding them in their academic endeavors.
Visit our Instagram page for a peek into the GDP life!
https://www.instagram.com/sa.globaldiscovery/
Polyphony
Polyphony is a student-run electronic journal that publishes news and reports on Discovery students' activities, editorials and letters on current issues, and academic papers. Check out their website and printed journals Issue 1 (July, 2020) and Issue 2 (September, 2021)for articles and papers.
Okayama University Media 岡山大学メディア OTD
Okayama University Media is an application that helps Okayama University students stay up to date with current events. Its purpose is to deliver valuable information to Okayama University students and help them maximize their potential.
Download the app and read 「岡大生図鑑」インタビュー企画 (Japanese only) to learn more about students from GDP and other faculties.
https://app.okayama-univ.com/
Look for GDP students on OTD 「岡大生リレーインタビュー 企画!」!
Class Experience
Social Innovation and Entrepreneurship
Class: Career Workshop II offered by Professor Takayuki Yoshioka in term 4, 2020
Reported by: PRIYA Made Dayita (Indonesia) – Joined GDP in October, 2019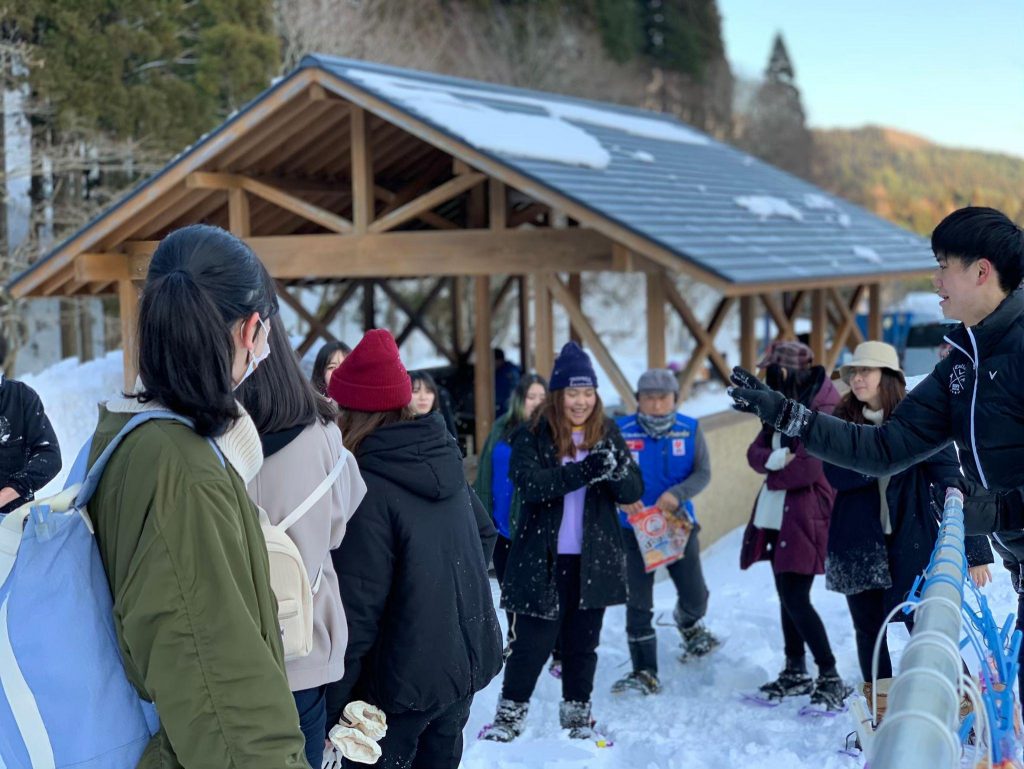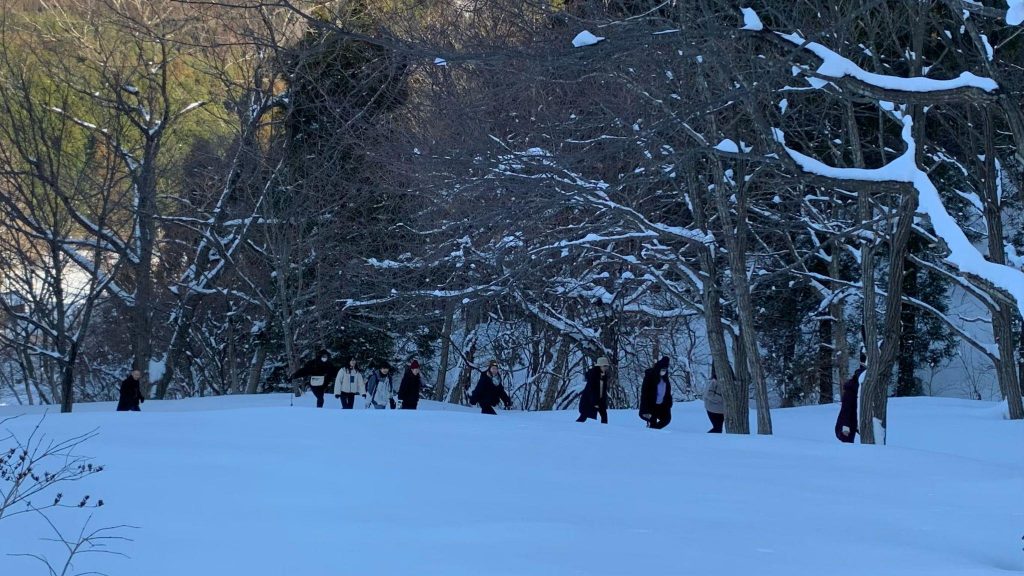 We listened to different people from Ryobi Holdings (Ryobi Bus) every week and made itineraries with different plans for day trips, overnight stays, or longer vacation visits. We visited Shinjo and made posters about the place for promotion for the Setouchi Tourism Booklet.
Cultural Diversity and Communities
Class: Fieldwork for Independent Study offered by Professor Haruna Miyagawa in term 3, 2021
Reported by: TOCHIKA Otomi (USA/Japan) – Joined GDP in October, 2020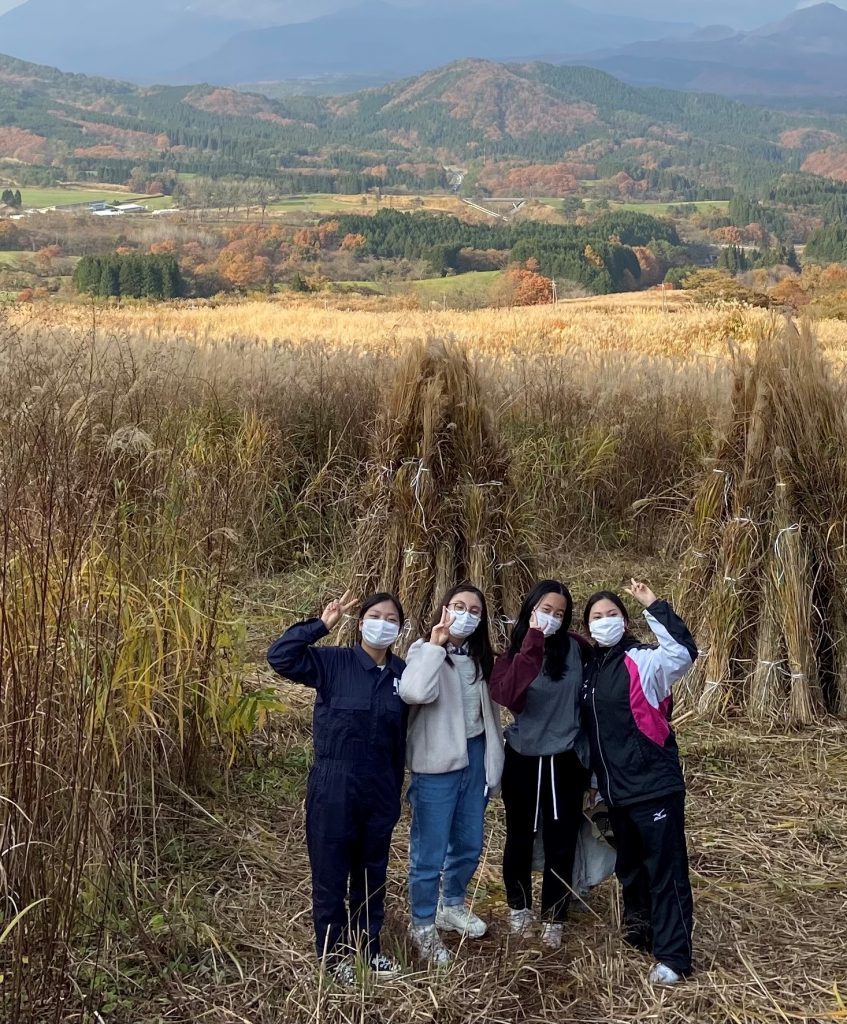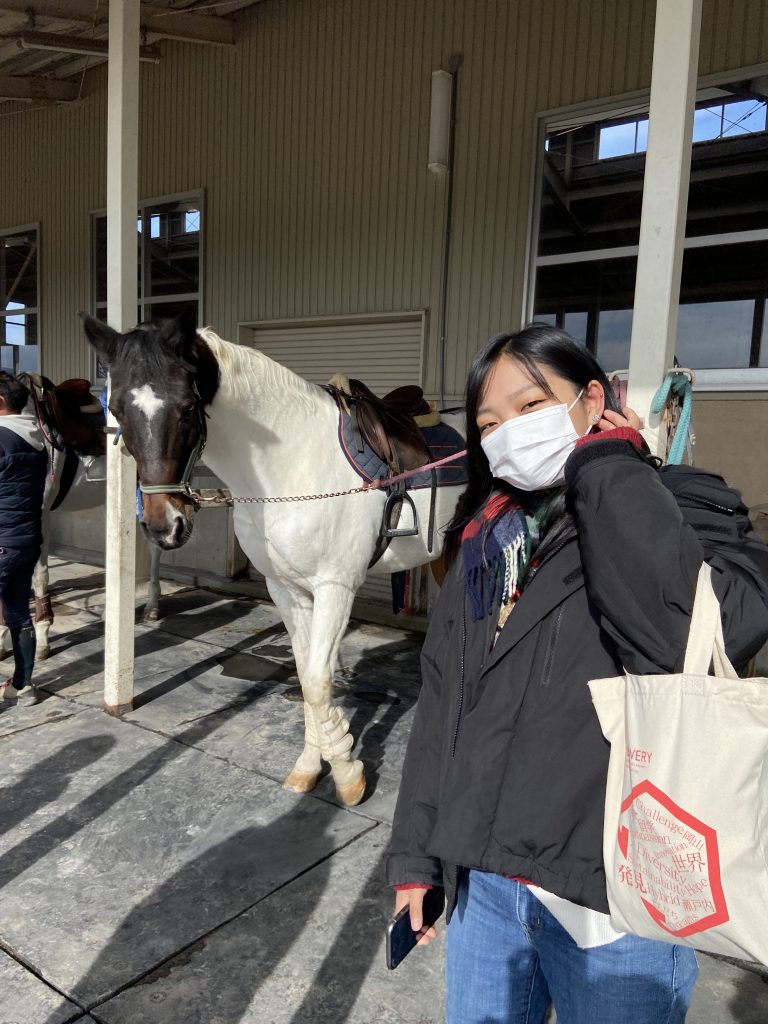 I took an independent study with three other Japanese students. Our objective was to know more about a place in Okayama called Hiruzen, learn how the government and businesses are working together to achieve the  SDGs, and find out how local people feel about SDG education and the tourism industry. We each had different goals so we created individualized syllabuses for the course.
We went to Hiruzen for a two-day, one-night trip to conduct fieldwork. During our time there, we were able to enjoy the beautiful scenery and speak to a lot of people from diverse backgrounds. One of our main activities was a Kayakari (cutting thatch grass) experience. We helped harvest susuki (pampas grass), which is dried and used on the roofs of traditional Japanese homes. It was a fulfilling experience because we could recognize our improvement by the end.
We also were able to go to a horse park, a dairy farm, a place called GREENable Hiruzen, Hiruzen winery, and a marche. Hiruzen's main industry is its dairy industry, and we could try the soft serve and yogurt. We then had an impromptu interview with the owner of Latte Banbieno, an artisanal cheese store in Hiruzen. Hearing directly from the locals about their experiences was one of the main reasons we wanted to do fieldwork in Hiruzen because we believe the locals are what makes Hiruzen such an attractive tourist destination, so we were very grateful for the opportunity. 
Transdisciplinary Sciences
Class: Laboratory in Environmental Ecology 2-1 and 2-2 offered by Faculty of Agriculture in term 3 and 4, 2020
Reported by: NURAGA Made Nuryawatipatni Sukma (Indonesia) – Joined GDP in October, 2018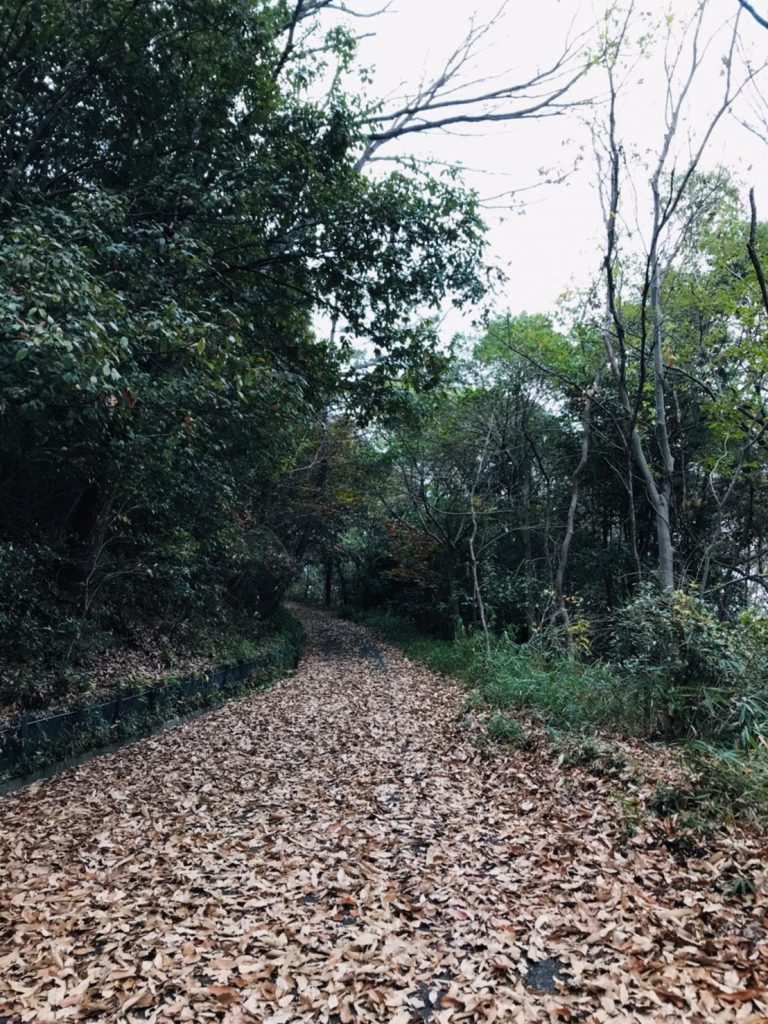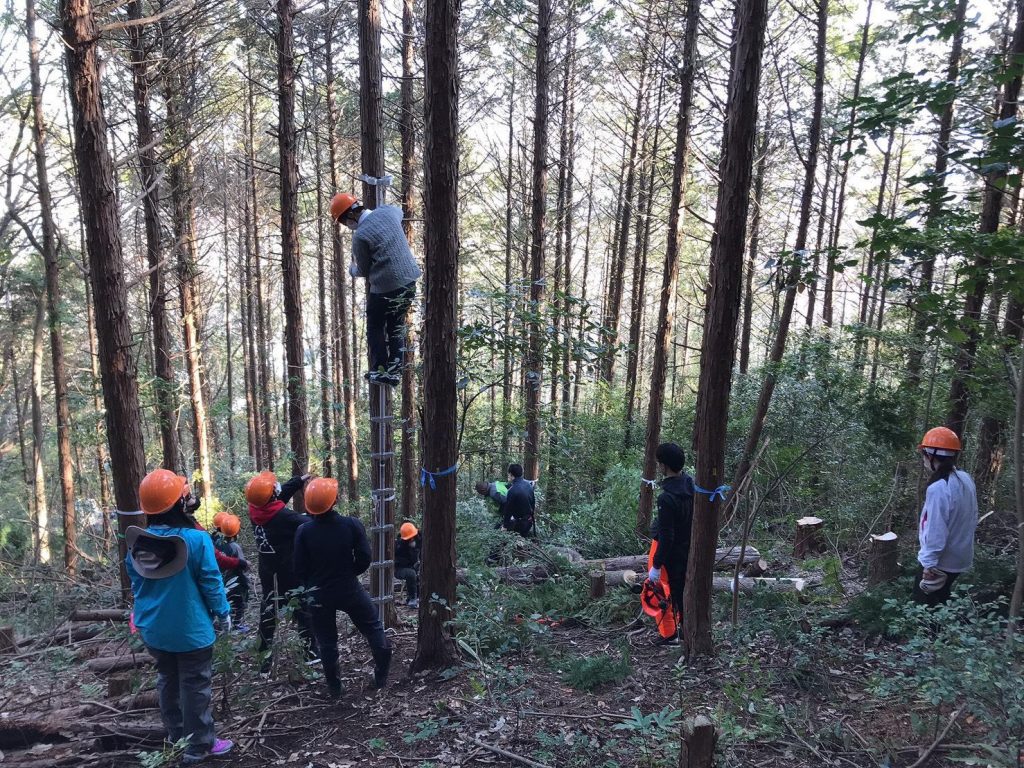 It was a class that I took for the course practicum credit, so I was together with other Japanese students who are studying in the Environmental Ecology course. In the class, we learned about the ecological properties of the forest ecosystem, physiological properties of tree species, and management systems of forests. Sometimes the lecture was held in the classroom and sometimes we went out to the forest for direct examination/research.
The forest that we visited is called Handayama forest, which is located behind the campus area. If you see the spot where the landslide happened in 2018, that's it. We gathered there at 2pm, and we started doing the experiment. Some of the activities that we did included measuring trees height, diameter, marking the trees with numbers, collecting the trees' species name, cutting tree branches, and even doing tree cutting as part of the forest management system. These activities would be useful for those who are planning to write their senior project about forest management. From what I know, the tree plots that are studied every year are different, and the data that we collected can be useful for understanding the development and growth of the forest so that the forest can be managed better in the future.
Clubs and Circles
There are several clubs and circles that GDP students can join, ranging from sports and hobbies to other extracurricular activities. There are many clubs and circles that welcome international students as well.
Global Study Lounge
The Global Study Lounge is an area shared by GDP students and G-Course students for individual and group study sessions and events. There are also rooms allocated for more private meetings.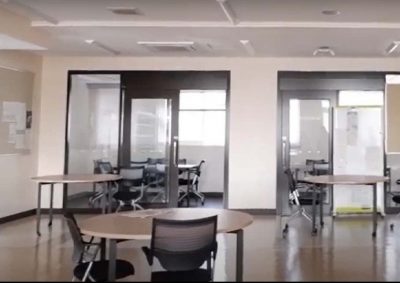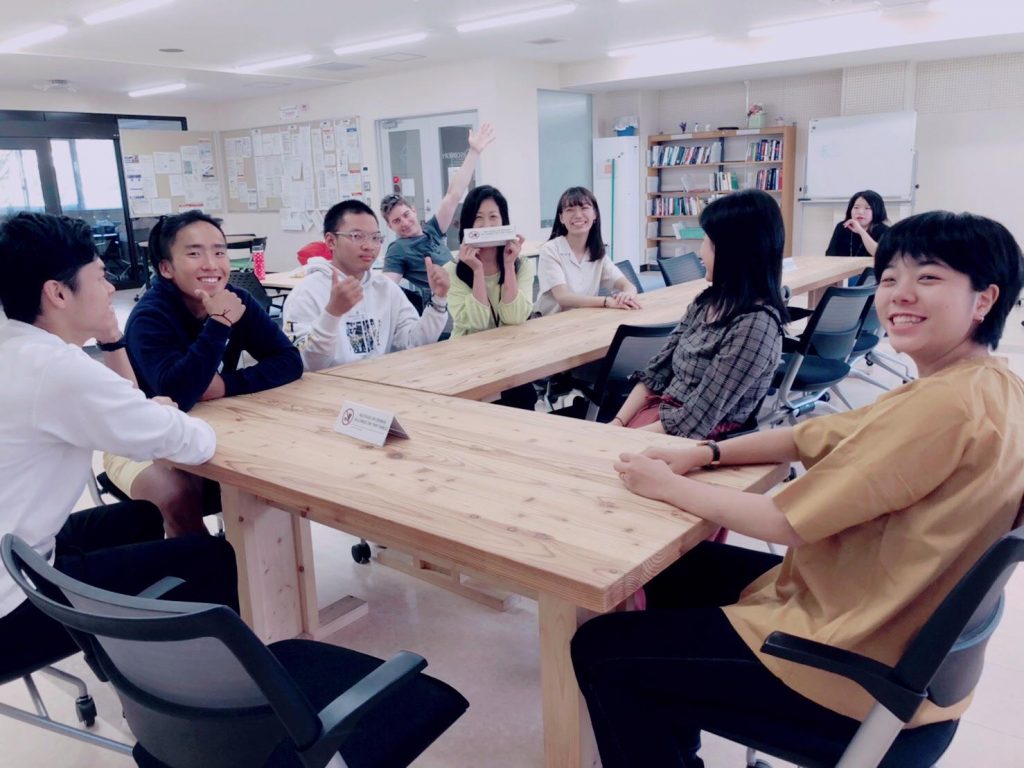 L-cafe
L-cafe is a space where Japanese students and international students can interact outside of class hours. L-cafe has an array of books and magazines that can help students learn more about languages they are interested in. There are several events held in L-cafe that encourage students to converse in different languages and make new friends.
L-cafe frequently hires several international students to work part-time as language facilitators. Students who can speak English or other languages fluently can help university students who want to improve their language proficiency. GDP students teach several languages such as French, Chinese, Indonesian and Korean.
Two GDP students worked as staff members at L-cafe for the Open Campus in August 2019.  

Left: NAKAGAKI Akira (Japan, Graduated from Frankfurt International School, Germany) – Joined GDP in October 2017 Right: VIZCONDE Nicole Angeline Robles (Philippines) – Joined GDP in October 2018
Part-Time Jobs (アルバイト)
Most university students do part-time jobs, known as "arubaito" in Japan. Some GDP students found a fun part-time job where they could help grow something that Okayama is famous for. Watch the video to find out what it was like!