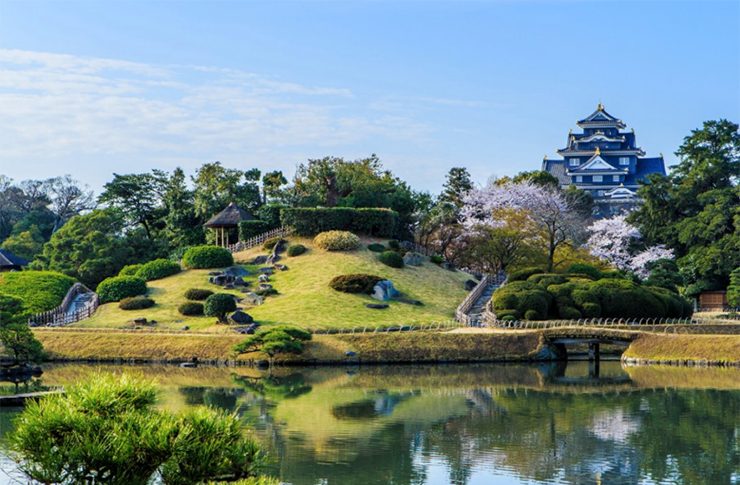 Both history and legend run deep in Okayama, not only in historical sites and districts, but in active anthropological and archeological discoveries happening all around. Tradition and culture are not locked up in dusty rooms, but are part of modern life.
Dramatic Castles
Japan's castles are an illuminating and romantic view into its history. First appearing in the 15th century, these castles were meant to defend citizens from neighboring kingdoms. Over time, they grew more elaborate, and today they fascinate visitors from all over the world. Okayama has seven castles, and many of them have been rebuilt or restored using the original blueprints. Okayama Castle is a gleaming, raven-colored castle overlooking the Asahi River and Korakuen Garden, close to downtown Okayama. Tsuyama Castle is famous as one of the greatest cherry blossom viewing locations in Japan. Bitchu Matsuyama Castle is one of Japan's 12 remaining original castles, and is the highest above sea level.
The great garden masterpiece of Okayama
Korakuen Garden is the masterpiece of Okayama. It is one of Japan's three great gardens and visitors from Japan and all over the world come to enjoy its ponds, hills, tea houses and picturesque views that change from season to season. Built at the end of the 17th century, and opened to the public in 1884, Korakuen is still one of Japan's most famous gardens. It was awarded three stars by the Michelin Green Guide Japan. You'll find yourself coming here again and again throughout the year, whether to see Noh drama, to experience tea ceremony in the famous tea house, to enjoy the moon-viewing ceremony in September, or to view the cherry blossoms with Okayama Castle in the background. If you're lucky, you'll photograph the flight of Korakuen's enormous, red-crested white cranes. Students can visit the castle, year-round, for free!
A Perfectly-preserved Edo-era Neighborhood
A visit to the Bikan Area of Kurashiki, just a short train ride from Okayama City, is like stepping out of a time-machine. This perfectly-preserved Edo-period merchant quarter is one of the most prized tourist areas of Japan. An entire section of the city has been maintained to the last detail, and period TV dramas and films are shot on location here. Black-tiled, white-walled shops, cafes and warehouses surround a canal lined with weeping willows. Boats glide sleepily under arched bridges. Rickshaws carry visitors through the narrow streets. Highlights include the Ohara Museum of Art, the Kurashiki Museum of Folkcraft, and the Japanese Folk Toy Museum. Come and see how Okayama's craftsmen use traditional techniques to create beautiful, modern products.
A national treasure and great cultural assets
Okayama offers an endless number of sites to explore. The grandest of the many temples and shrines in the region is Okayama City's Kibitsu Shrine, a 500-year-old National Treasure. Kokubunji Temple, in nearby Soja has a five-story pagoda, the last of its kind built in Japan. Another highly regarded temple near Soja is the Iyama Hofukuji Temple, associated with the famous artist Sesshu. Accessible by train or by bicycle, all of these important cultural assets will make your history book come to life.