Kibi-ji Cycling event to welcome new students to the Global Discovery Program
2020年10月14日
On 11th October 2020, the Global Discovery Program organized a "Kibi-ji cycling tour" to welcome new students. As a result of the coronavirus pandemic, most orientation and welcome events have had to be canceled or postponed; however, this outdoor event was approved on the condition that all participants would take the necessary preventative measures against infection. Please read the following report from first-year student Ayaka OHARA to find out more about the event.
—————————————
The eagerly anticipated "first welcome event" for new students was an amazing experience. I was finally able to feel like I was a part of the Discovery Program, which was a relief after experiencing a less than thrilling start to my university life because of the pandemic.
4 staff members and 9 students (including 5 freshmen) toured along the Kibi-ji cycling road, stopping at Kibitsuhiko Shrine, Tsukuriyama Ancient Burial Mound, Bitchū Kokubunji Temple, and Kibitsu Shrine.
While visiting these sites that are so important to Okayama's history, I was able to improve my knowledge of the local area.  We were lucky enough to see a Shinto wedding ceremony and children celebrating Shichigosan (a traditional rite of passage) at Kibitsuhiko Shrine. Additionally, we were able to experience things that we do not normally get to do in our daily lives, such as drawing our fortunes, making offerings and requests at the shrine, and eating kibidango (dumpling). After listening to Professor Aoo's explanation, I realized that, even as an Okayama native, there were a lot of things I did not know about the area. Even though I had been planning to explain things to students from abroad, I faltered when I realized how little I actually knew! Next time, I hope to be able to explain the history and traditions of the area more fully.
While cycling, we could enjoy the tranquil scenery and pleasant breeze while exchanging greetings with the farmers who were in the middle of harvesting rice.
Other participants were kind enough to share their impressions of the event:
・I initially signed up for the event thinking that it would be good exercise. To be honest, it was a bit tougher than I had expected, but it was a lot of fun.
・I am so happy that I had the chance to go sightseeing in Okayama and learn about its history. I want to learn more about Okayama.
・Though I usually travel by car or train, passively watching the scenery fly past, this event gave me the opportunity to go places with my own body and experience the scenic spots for myself. It was really enjoyable!
I did not expect 4 teachers from Discovery to participate in the event, but I was really happy for the opportunity to speak to them. Usually we only communicate online, or, in cases where I am not taking a certain professor's course, we hardly have the chance to talk at all. I am happy that I could spend time talking about various topics with teachers, seniors, and friends outside of class. The experience has made me excited about my student life.
Professor Aoo said that, "I wanted students to realize that student life is not just about studying in classroom". I honestly felt that his statement was important for new students to understand.
Face-to-face classes have commenced, and we are already in the midst of tackling difficult homework assignments, but I am thankful that I was able to safely participate in this enjoyable cycling event and refresh! Thank you very much.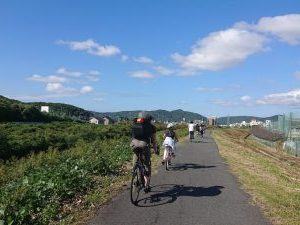 Start from Kibi-ji Cycling Road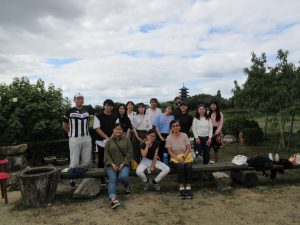 Participants of the bike ride at Bitchu-Kokubunji Temple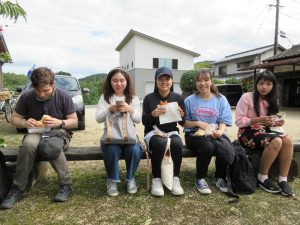 Having bread from Soja for lunch (Ms. Ohara in the center)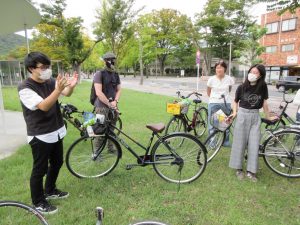 Participants coming back to campus to talk about their experience