Visit to Kurabo Memorial Hall and Okayama Mothers Hello Work
2021年1月26日
Taking advantage of Okayama University Global Discovery Program's emphasis on practical learning, Japanese Economy and Gender students visited the Kurabo Memorial Hall located at Kurashiki Ivy Square on December 12, 2020 and Okayama Mothers Hello Work on January 7, 2021. A total of 11 students, including international students, participated in the field trips under the guidance of Associate Professor Yamamoto.
Kurashiki Ivy Square is a complex of brick buildings built in 1889 that originally housed Kurabo Industries' head office and the first modern cotton mill in Okayama. The building currently known as Kurabo Memorial Hall was used as the raw cotton warehouse at the time of Kurabo's founding, and the exhibition includes machines used in the Meiji era, historical photographs and videos capturing the work and lifestyle of Kurabo employees, models of how the area changed through the years, and more.
Though Japanese Economy and Gender class focuses on Japan's economy after the 2nd  World War, the Kurabo Memorial Hall gave students the opportunity to see the important contribution that women made to the economic development of modern Japan since the Meiji era through their work at the cotton mill. Students were surprised that more than 100 years ago, Japanese companies generously offered a broad range of benefits to their employees, providing them with housing and free access to clinics, as well as covering the expenses for company trips and club activities.
Back in the classroom, students learnt about the real-world impact of implementing the Equal Employment Opportunity Law and the Basic Act for Gender-Equal Society. To deepen their understanding of government efforts currently being made to improve gender equality and how they function at the municipal level, students then had the opportunity to visit Okayama Mothers Hello Work, public employment security office for mothers. Okayama Mothers Hello Work is one of 17 Mothers Hello Work locations spread throughout Japan and was established about 15 years ago at Hello Work Plaza Okayama, an unemployment office located in front of Okayama Station. The Okayama Labor Bureau, which has jurisdiction over the area and operates under the Ministry of Health, Labour and Welfare, actively promotes gender equality, and students were impressed by the facilities designed to support job seekers who come to the office with their children, such as the nursing room and well-equipped kid's corner.
During an information session, students had the opportunity to ask staff various questions; for example, work seminars held per year and the number of newly registered job seekers per year. Students enthusiastically took notes on the statistical information given, which included insight into how the coronavirus has affected women who are raising children and looking for work. Additionally, students could ask about specific topics such as what age group is more likely to use the Hello Work service, the ratio of single mothers using the service, the type of work that women raising children typically look for, etc.
Founded in 2017, the Global Discovery Program is an international undergraduate program where students from diverse backgrounds and cultures can learn together. The open curriculum encourages students to create a study program uniquely suited to their interests and future goals without being limited by their department or major field of study. With a proactive approach to practical learning that promotes internships and fieldwork, the Program aims to foster global citizens who play an active role in their communities.
Disclaimer:
At Okayama Mothers Hello Work, students were divided into two groups, and the groups were given an explanation and tour of the facilities separately. We would like to express our gratitude to everyone involved for their careful preparation of hand disinfectant and forehead thermometers during this time.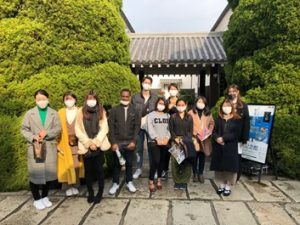 In front of Kurabo Memorial Hall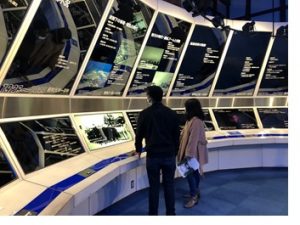 Students Enjoying the Exhibition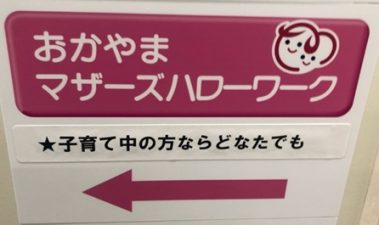 Information Session at Okayama Mothers Hello Work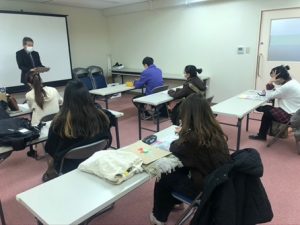 Information Session at Okayama Mothers Hello Work