Exploring new means of expression with "Practical Course on Creative Film Making"
2021年3月10日
The GDP offered an intensive course designed to give students a practical introduction to digital film production during the spring break. The instructor, John Wells, who is a professional cinematographer as well as a visual anthropologist, taught students basic rules and tips for film making and took the time to provide detailed comments on their daily assignments.
Student projects were created in line with themes such as "At home and/or near home," "My Okayama," and "Portrait," and not only exhibited creativity and sensitivity, but also revealed participating students' personal attachments. Following production and editing, students screened their work in class. This process gave students the opportunity to engage in critique and discussion and allowed them to get to know each other in different ways, thereby cultivating a certain sense of bonding in the class.
We will showcase some of these works in near future.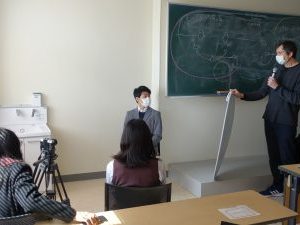 Students and the instructor