Orientation Training for New International Students at Hinase-Umi Lab
2022年8月8日
On July 16, 2022, the "Hinase-Umi Lab Experience" was held as an orientation training for new international students of the Discovery Program for Global Learners (GDP) at Okayama University.
Due to the Japanese government's border measures to prevent the spread of novel coronavirus, GDP students admitted in October 2020 and October 2021 were unable to enter Japan for an extended period of time and had no option but to take online classes from their home countries. However, they were gradually able to enter Japan and finally study in Okayama from the end of March 2022 as the government restrictions were lifted. In the past, an orientation for new October students was usually held in Okayama City at the end of September every year. However, for this year, 13 students—primarily those who were enrolled in October 2020 and October 2021—and Associate Professor Eiko Ushida visited Hinase Umi Lab in Hinase Town, Bizen City, located in Okayama Prefecture. Through this orientation training experience, students had the opportunity to learn the local culture and traditions, deepen their understanding, and further develop their friendships with their other batchmates.
On the day of the trip, students gathered at Okayama Station early in the morning at 7:00 and took the JR Ako Line and a city bus to the Hinase-Umi Lab, which overlooks the Seto Inland Sea.
In the morning session, the students experienced pottery hand-binning under the guidance of Bizen Pottery artist Ryuji Namba. Students admired each other's unique creations and looked forward to the finished product of their own work to be delivered to them two months later.
In the afternoon session, after listening to a lecture on marine debris, students created a dump station out of actual marine debris they had gathered together and named it "Free the Turtles Save the Sea." The students were amazed at the amount of marine debris they were able to collect in such a short amount of time, and the local people were impressed by the international students' artistic talents and creative skills.
Through these activities, students were able to raise their own awareness and recognize Okayama Prefecture's efforts in preserving traditional culture and implementing the SDG 14, which is "Protecting the Life Below Water." In addition, many young people were dressed in yukata (an unlined cotton summer kimono) on the train on their way home, and students were able to enjoy traditional Japanese culture until the very end.
The participants seemed to have truly had fun on this trip to Bizen city. They commented, "Thanks to everyone, I was able to have a wonderful experience that exceeded my expectations," "It was a very fun day to think about marine debris while also getting the chance to make Bizen Pottery for the first time," "Today was really fun. Thank you everyone," and so on.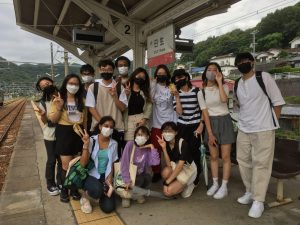 At 7:21 in the morning, the group departed from JR Okayama Station and arrived at Hinase Station about an hour later.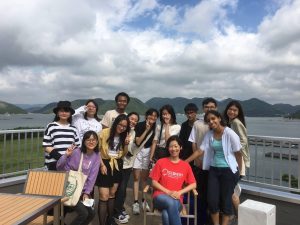 The view from "Hinase-Umi Lab" overlooking the Seto Inland Sea.
*Participants took off their masks only when this picture was taken.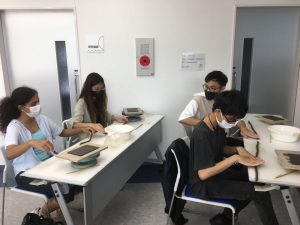 Bizen Pottery hand-binning experience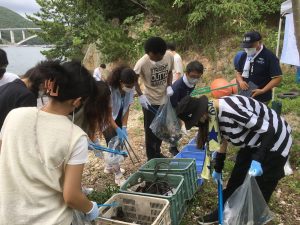 Students sorting collected marine debris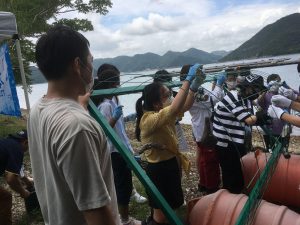 Hanging marine debris to create an artwork
This arch represents the ocean with trash floating in it, giving visitors a real sense of the creatures that live in the sea.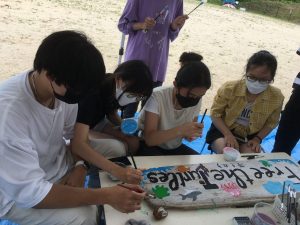 Making a sign for a marine debris station using marine debris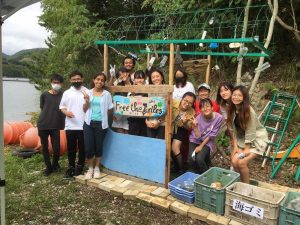 The marine debris station has been completed. It will be installed in this "Hinase-Umi Lab" and used by visitors.