"Discovery Program for Global Learners Homecoming Day 2022" Event
2022年11月15日
Discovery Program for Global Learners hosted its first ever "Discovery Program for Global Learners Homecoming Day 2022" on Saturday, October 22, with current students serving as committee members who organized the event. In collaboration with the university's "Okayama University Homecoming Day 2022," the event was held in a hybrid (face-to-face and online) format to enable alumni who are both in and outside of Japan to participate.
On the day, in addition to alumni participating in person, those from overseas participated via Zoom. The first director, Dr. Nakatani, and Dr. Ushida, who retired in October, joined us to renew old friendships with alumni, seniors, juniors, and former teachers.
Current students asked the graduates various questions about their higher education, job hunting process, and memorable experiences during their university years in a lively discussion.
<Schedule>
・Greetings from the current and former directors
・Networking and reunion with former teachers and classmates
・Ice breaker [OBOG career preparation and advancement support(experiences・useful information・advices・recollection of university years), networking among both graduated and current students]
・Participant Comments, Group Photo
<Comment From a Student Committee Member>
This was the first time for the Discovery Program for Global Learners to host a Homecoming event. It felt really nice meeting the alumni once again because I thought it would be difficult considering how many of them have gone back to their home countries or are living in different prefectures of Japan. I could tell the graduated students and professors were having a great time catching up with one another. In the afternoon, we also had an interactive sharing session from the alumni to the current students, where we learned a lot from their talks about job hunting and tips for studying in the Discovery Program for Global Learners, in addition to recollections about the unforgettable memories they had while in the program. It was so heartwarming and I am very happy that I had the opportunity to prepare for this event, and hopefully next year the event will be even more successful.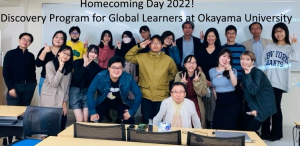 Group photo with the alumni, former and current teachers, and current students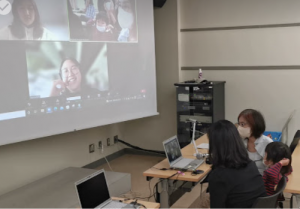 Alumni participating via online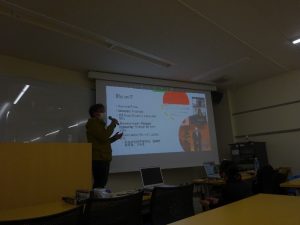 Sharing of tips and advices regarding career advancement from alumni