専門教育(Senmon Kyoiku) "Major" Education
Discipline-specific courses offered by each department and the Discovery Program are called Senmon Kyoiku (a.k.a. "Senmon"), or "Major" in Okayama University's official terms. At Discovery, this category is further divided as follows:
Selecting and Registering for Senmon Courses outside Discovery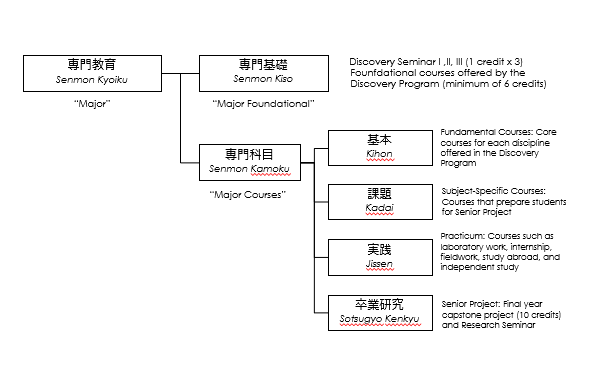 専門基礎 (Senmon Kiso) "Major Foundational"
Senmon Kiso, or "Major Foundational" courses in Okayama University's official terms, are introductory courses offered by each department to their own students in order to expose them to a variety of sub-disciplines within a department. As Discovery is a multi-disciplinary program, Discovery students are encouraged to take courses across a wide range of academic disciplines.
This category also includes Discovery Seminars I, II, and III (the courses intended to cultivate intercultural sensibilities, interdisciplinary learning, and critical thinking) and Academic English courses.
※Some of the Senmon Kiso courses offered by each department are categorized as Kyoyo when taken by students who belong to other departments. For Discovery students, credits earned in such courses can be applied toward Jiyu Sentaku (Elective) credits under Senmon courses.
専門科目(Senmon Kamoku) "Major Courses"
In Senmon Kamoku, or "Major Courses" in Okayama University's official terms, you will get into the core of specific field of studies at undergraduate level.
基本 (Kihon) and 課題 (Kadai)
Kihon courses and Kadai courses are Discovery's own categories. When you enroll in Senmon Courses offered by other departments, the credits earned will be counted as Kadai courses.
実践 (Jissen) "Practicum"
Practicums includes courses that involve hands-on training and practical experiences, such as laboratory work, internships, fieldwork, study abroad, and independent studies. The Practicum is also Discovery's own category. Some courses offered by other departments may also be applied to this category. Consult your advisor for further information.
卒業研究 (Sotsugyo Kenkyu) "Senior Project"
The Senior Project is a year-long capstone project in which you will conduct a research/project in the field of your interest. It is an opportunity for you to integrate what you have learned at Okayama University.
All Discovery students will register for the Senior Project through the Discovery Program regardless of their chosen track.
TO START your Senior Project, you must:
find a faculty member who will agree to supervise your Senior Project
have accumulated at least 92 credits ※
※If you are a Matching Track student, follow the rules set by your host department.
Discovery Track students
You will conduct your Senior Project under one of the Discovery faculty members. The medium of instruction will be in English. The final product can be in the form of a thesis, business proposal, and visual product, such as videos, photos, and art pieces, accompanied by written documents (in English) explaining them. Consult your Senior Project Advisor to choose the most appropriate medium for your final project.
Matching Track students
Each department has its own criteria for the Senior Project. You should follow the protocol of the department in which you pursue your Senior Project.
Presenting Your Senior Project
In the final academic term, all Discovery Students will make an oral presentation on their Senior Project in English in front of peers and faculty members. Discovery Seminar III will prepare you for the final presentation.