The Discovery Program offers a interdisciplinary, open curriculum. You can select courses from a wide range of disciplines, combining them to fit your own academic interests and future goals. Consult these pages and your advisors to build your own curriculum.
As a Discovery student, you can enroll in courses offered by the program's own faculty members in English, as well as by Okayama University's diverse faculties and departments in Japanese or in English.
Graduation Requirements
Course Categories
Senior Project and Tracks
Declaration Timeline: Tracks and Clusters
Graduation Requirements
To graduate, you must earn at least 124 credits and must complete a year-long Senior Project.
The breakdown of the number of credits you need to accumulate for each course category is shown below.
Course Category
必修
(Hisshuu)
Required
選択必修
(Sentaku Hisshuu)
Required Elective
自由選択
(Jiyuu Sentaku)
Elective
Total
教養教育
(Kyoyo kyoiku)
Liberal Arts
導入教育
"Educational Orientation"

2

 
14
28
知的理解
"Intellectual Understanding"
 
 
4
汎用的技能と健康
"Versatile Skills"
 
1
 
言語
"Langages"
 
 
6
高年次教養
"Upper Division Liberal Arts"
 
 
1
専門教育
(Senmon kyoiku)
Major
専門基礎
(Senmon Kiso)
Major Foundational
3
6
35
※2
96
専門科目
(Senmon Kamoku)
Major Courses
基本
(Kihon)
Fundamental
–
40
※1
課題
(Kadai)
Subject-Specific
–
実践
(Jissen)
Practicum
–
2
※3
卒業研究
(Sotsugyo Kenkyu)
Senior Project
10
※4
–
Total
17
58
49
124
NOTE:
Required: Courses that must be completed by all students.
Required Elective: A category of courses from which a given number of credits must be earned.
Course Categories
At Okayama University, courses are divided into two categories:
IMPORTANT: Credits accumulated under the Kyoyo category do not carry over to the Senmon Kyoiku category, and vice versa. However, depending on your chosen curriculum, you need to take additional courses (e.g. prerequisites for Senmon courses in science) even if the credits earned may exceed the required number.
Senior Project and Tracks
In the final year of your study, you will conduct a year long Senior Project. The Senior Project can be conducted either under the supervision of
Discovery Faculty in English, or
The members of Participating Faculties in Japanese (or in some cases in English)
The former is called the Discovery Track; the latter is called the Matching Track.
Declaration Timeline: Tracks and Clusters
The Discovery Program allows you to design your own program of study. To help you gradually narrow down your field of study and achieve specialization in a timely manner, we have set several milestones.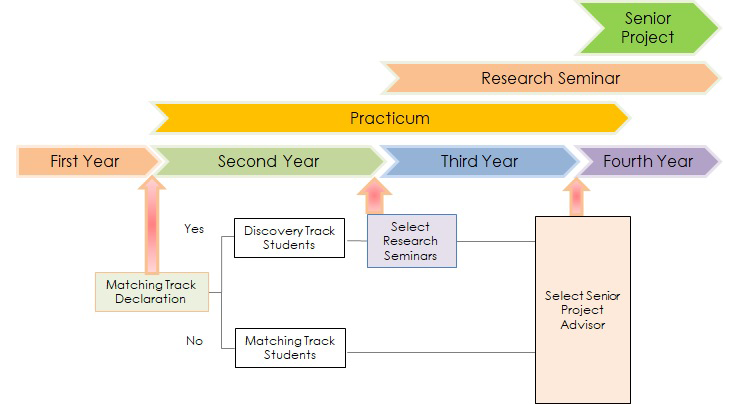 Matching Track Declaration:
If you wish to conduct your Senior Project with a faculty member outside the Discovery Program, you should declare your intent to do so by the end of the first year.
You must also declare your "major department" at this time. The major department is defined as the department in which you will complete the Senior Project. In order to pursue the Matching Track, a very high level of Japanese language proficiency is necessary. Some departments may also require you to take specific courses from the first year.
Consult your Academic Advisor and Matching Advisor as early as possible to plan your course of study required by the host department. Also, formulating your plan of the study early is important to ensure that you achieve a level of expertise and knowledge on par with the students of that department.
Students who make no declaration remain in the Discovery Track.
Choosing Research Seminars (Discovery Track students): Most students in the Discovery Track start enrolling in Research Seminars in their third year. You may register and earn credits for multiple Research Seminars (up to 8 credits).
Choosing a Senior Project Advisor (All students): Most students will select a Senior Project Advisor and obtain his/her approval by the end of the third year. Faculty members have the right not to accept students who lack sufficient prerequisite knowledge to conduct a Senior Project in a particular field. Communicate well in advance to make sure you meet the requirements.